8th Ryan Maggi Minithon
Thousands run for humanity and prosperity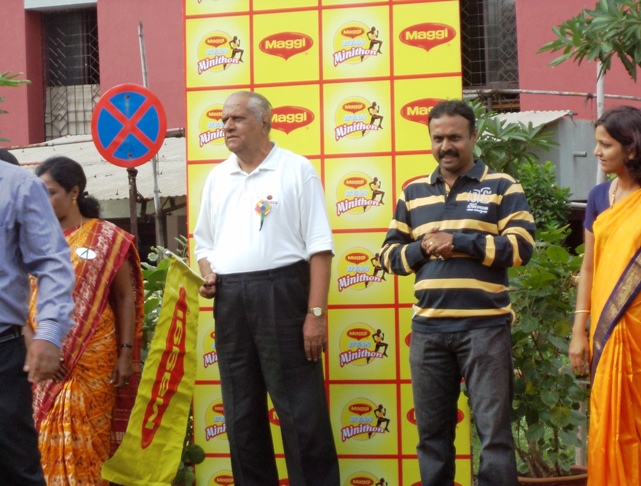 About 5119 students in and around Nagpur exhibited their grit and strong desire when they participated in 8th Ryan Maggie Minithon hosted by St Xavier's High School MIDC under the aegis of the Ryan Sports Club in collaboration with Nagpur Athletic Association and Sponsored by Nestle India Limited on 27th August 2011. "Run for fun, humanity and Prosperity" was the clarion raised by the Ryan sporting Club. The Races were flagged off by DSO Mr. Gangreddiwar Mr. Malviya, President Nagpur Athletic Association, Secretary Mr. Sharad Suryawanshi, & Mr. Upendra Verma, HOD Sindhu Mahavidyalaya, category wise. The Minithon which was organized in 5 different categories of Boys and Girls with Rs 30,000 prize at the stake saw a roaring participation of the students.

Shree Ajay ji Patil, President National Congress Party was Chief Guest at the valedictory function. Mr. Pote Tahsildar Hingna, Mr. Asif Qureshi Government Pleader, Dr. Anil Karwande, Principal Ishwar Deshmukh College of Physical Education, Mr. J k Rao Manager Arvind Cooperative Bank. Ms Kalpana Jadhav, HOD Sports Hislop College, Shri Shirishji Borkar,President Nagpur Union of Working Journalists, and Mr Denzil Lobo of Nestle India were the Guests of Honour present at the occasion.

This year the general Championship was bagged by Nehru Mahavidyalaya. In his address to the students Chief Guest MR Ajay ji Patil stated that today co curricular activities are as important as studies in student's life & they would take the students to the path of success. Mr. Pote in his address said that the huge gathering of the students was an inspiration itself to others and congratulated to the students for their positive approach. Mr. Rao in his address gave the mantra of "work works" to the students.

Principal Ms Pallavi Dadhe while addressing the gathering stated that sports were the very basic of our success as they develop in us the sense of sportsman spirit and endurance. They are responsible to develop ones physical, psychological and philosophical Rhetoric. On behalf of Chairman Dr. A. F. Pinto and Managing Director Madam Grace, She expressed her gratitude towards all the dignitaries for gracing the occasion. Mr Nishit Vijayan Administrator,Ms Padmaja Marathe Principal Hiwri, Ms Urvashi Bhinde Principal Ajni, Ms Shahsibala Dhotekar H.M were present at the occasion. The programme was coordinated by Mrs. Ratanparaj & Mrs. Vishwekar.

The Event was a grand Success owing to the hard work of Principal and other staff Members.